What is Gamification in ITSM?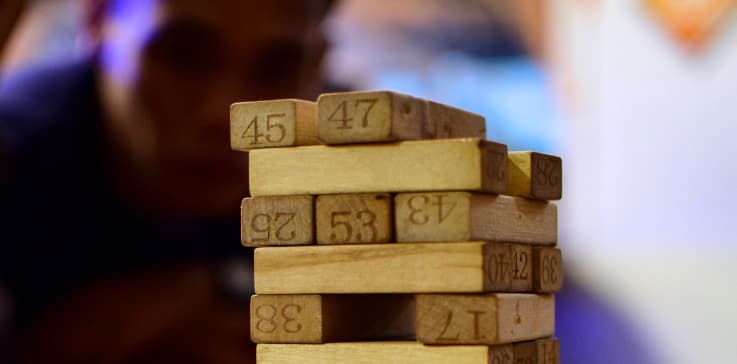 Gamification is defined by the Oxford dictionary as, "The application of typical elements of game playing to other areas of activity, typically as an online marketing technique to encourage engagement with a product or service".

It is mainly about application of the elements of a game to activities which are not game-related in nature in order to raise the interest level of the participants by turning a mundane task into a fun activity. It does this by bringing game mechanics such as point scoring, competition, levels, badges, rules of play and achievements into play, thus transforming the job completely.
Strategy of Gamification
Gamification is based on psychology. It depends on the tendency of humans to seek challenges, instant rewards, competition and the need to play better than the other players. It has been discovered that Gamification can be a powerful tool which can be made use of in order to drive behavior.

A survey by Entertainment Software Association has discovered that the average age of gamers in the US is 35 for men and 44 for women. This shows that a large number of people in a broad ranging age group still are involved in some form of gaming. Gamification thus is not a fad which targets only the young demographic, but is also effective on the older population as well.
Factors Involved in Gamification
Presently, Gamification can be applied in the daily tasks of an employee, because of the technology available to support it. There are factors such as human motivation, costs involved and the ability of the process to provide the desired results. There are 2 types of motivation:
Extrinsic motivation
The motivation for performing an activity is an external reward.

They can include gifts, monetary benefits, better grades, promotions, threats and coercion.

This type of motivation is not long lasting and the rewards need to be periodically increased to entice the individual and produce the desired results.
Example: An organization can offer a monetary reward for the developer who rakes up the maximum points in a contest where they are all finding faults in the company's website.
Intrinsic motivation
This is the type of motivation where the users are attracted to perform the activity due to their personal interest in it.

They are motivated by things such as the reward of doing work which is satisfying to them, the experience of performing the task, a chance to make social connections and the opportunity to be a part of something big.
Example: An employee who enjoys the challenge of finding bugs in a computer program and enthusiastically does it in the hopes of being noticed for dedication towards work.
Foundations of Gamification
Gamification mainly consists of game mechanics and game dynamics which are the key to understanding how business objectives can be mapped to supporting behaviors in a mechanism which will be effective.
Game Mechanics
It consists of the mechanisms, rules, tools and techniques which are used as the currency of gamification. They are the structures needed to motivate users, trigger activity, drive engagement and change behaviors.
Challenges: They are the core of gamification. The relationship between challenge and reward involves the employee doing something and getting a reward for that from the organization.

Points: For every action, a pre-determined number of points are awarded. It is the game-economy equivalent of a compliment from the manager. There can be an option to cash in the points for a tangible reward.

Badges: They are a sign of recognition. They make more sense than points as they recognize achievements in specific categories and act as status symbols.

Levels: They are defined by a threshold of a specific number of points and give additional meaning and status to the points. For example, reaching 100 points can get the employee an 'Expert' rank and getting 500 points can get them a 'Master' rank. This gives them a sense of achievement and gives them a sense of progress and achievement by quantifying their skills and contributions. These things are useful during annual reviews.

Leaderboards: They add a relative side to gamification by comparing the achievements of everyone involved, thereby inducing a friendly competition. Leaderboards should be planned to create a positive impact since they are designed to find out the best among all.

Trophies: Trophies are awarded for larger achievements unlike badges which are given out for smaller achievements. For example they can include trophies like 'Employee of the month'.
Game Dynamics
Game mechanics work because of game dynamics. These game dynamics appeal to the basic human needs and instincts. There are different game mechanics which can trigger entirely different sets of game dynamics.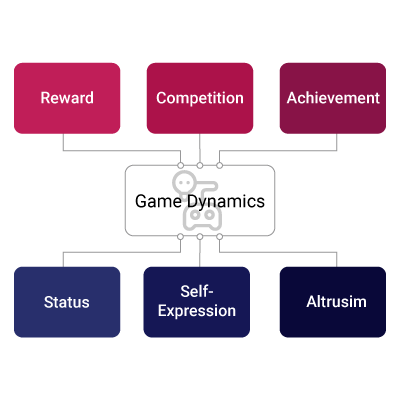 Reward: Human activity is fundamentally driven by rewards. Every activity needs to have some sort of reward for human beings to put some effort into it and expend energy. Once rewards are made clear, gamification encourages repeat behavior and allows us to embed positive habits and a change in culture.

Competition: Competing is a part of the human DNA and research has proven that competitive environments give rise to higher performance. Competition is enforced through the use of leaderboards where there is a visible definition of the performance that the people need to aspire to.

Achievement: This is a very powerful motivator because people are often inspired to set objectives and work towards bigger goals. A sense of achievement motivates people to seek out newer challenges and work harder.

Status: Achieving something great will give the much needed social recognition to some people. In general, people desire respect and admiration from their peers and are ready to work hard in order to obtain it. The different game mechanisms such as badges, trophies and leaderboards help to quantify status and help in social validation.

Self-expression: A lot of people like to express themselves, which is like a state of discovery for them and they are working in a state of flow. This need to express themselves is crucial for people as it showcases their uniqueness and identity.

Altruism: The 'cause' that the companies are involved plays a major role these days as millennials take them into consideration while looking for a job. They need to know that the company has a heart and supports a cause they like.
Procedure to set up Gamification in ITSM
Keeping the different factors for motivation in mind, these procedures must be followed to design a gamification process.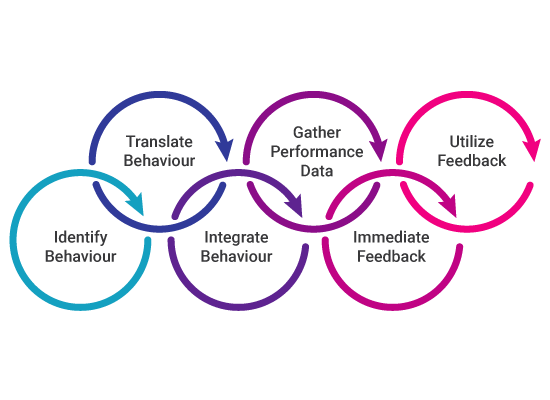 Identify the behaviors which are desired and the ones which are not desired.

Translate these identified behaviors into gaming features

Find out how to integrate these gaming features into ITSM tasks. This can be done by
Creating a competitive atmosphere.

Using a virtual currency/points system for rewarding performance. If they can be exchanged for something of monetary value, there will be tax implications, so it should be checked before implementing.

Integrating the system on mobile devices as they are easier to access.

Creating interest in order to keep the users engaged.
Gather all the data regarding performance of the gamification process in a central repository.
Immediate feedback should be provided to the individual who is playing the 'game'.
This feedback data must be utilized to make adjustments to the game and provide optimum motivation of the desired behaviors.
Benefits of Gamification in ITSM
In ITSM, the IT Service Desk can be greatly benefitted by the implementation of gamification. This is because it is in a unique position which allows it to identify the opportunities for service improvement and innovation, through its constant interaction with a wide customer base.

The following benefits are provided by gamification to IT Service Management:
It increases the adherence to the processes and establishes a superior consistency.

It drives collaborative working between the different teams, departments and sites.

It encourages the most effective behaviors to improve the execution of process stages.

It improves the process of capturing and reusing technology.

It motivates the service desk analysts to close more calls within the Service Level Agreements (SLAs)

It increases the rate of response for end user satisfaction surveys.

It supports fast-track training programs to increase productivity quickly.
Example
Let us consider the following scenario:

In the IT Service Desk of an organization, the engagement is low even though all the staff is regular to work. This is mainly because of the large number of repetitive tasks which were being handled by them, making them bored and unmotivated. This leads to burning out of the staff and lowers productivity.

The solution for this mundane and repetitive work is to plan out a game model for the service desk by introducing points, skill badges and a leaderboard in order to provide incentives for achievements and provide instant feedback to analysts.
Thus by simply gamifying a boring job, the productivity of the company can be increased without actually making any changes to the actual job. This results in greater benefits over the long-term for the organization and keeps the employees well-motivated.