Dependency Determination in Project Management and its Types
Defining Dependency Determination
Dependencies in project management are well-defined as connections among the projects that decide the sequence in which project management activities should be executed. These tasks might be multiple preceding tasks which mean that two activities can be appropriate at the same time. Furthermore, they are described by the four types of dependencies such as discrete, mandatory, external and internal dependency.
Dependency is a method utilized in recognizing the proper sort of dependency that is used to make the relationship between two activities. The activities are named as predecessor (which alludes to the principal action) and successor (the work that goes before the first).
Types of Dependency Determination in Project Management
One of the most critical aspects of creating a strong project schedule is to understand the types of dependencies that are inherent in the workspace. Characterized into mandatory or discretionary, internal or external dependency determination attributes can be utilized at the same time in the following ways: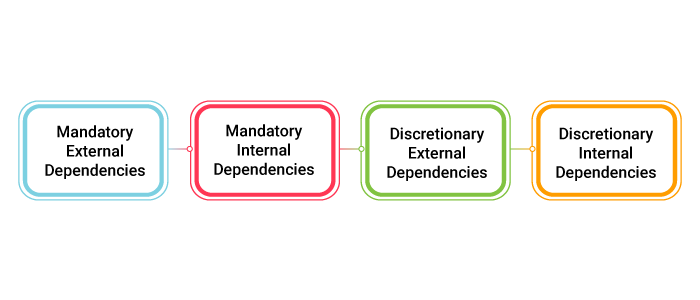 Mandatory dependencies are those that are lawfully necessary as an integral part of the workplace. Regularly involving physical impediments, the project team figures out the dependencies that are required to implement amid the process of sequencing the tasks. Mandatory Dependencies also denoted as hard logic, or hard dependencies should not be mistaken for relegating plan imperatives in the scheduling tool.

Examples of this logic include:

Two activities must be performed at the same time (starting and/or finishing at the same time)

An activity cannot begin until another activity is completed

Discretionary dependencies also referred as preferential logic, are set up based on the learning of best practices inside a specific application area of the project where a particular sequence is needed, even though there might be other sequences that are adequate. Discretionary dependencies can make random float values that can restrict advanced scheduling options, hence, needs to be documented.

Discretionary dependencies must be audited and considered for modifications when optimizing systems are in use. The project team figures out which dependencies are optional amid the way toward sequencing the tasks.

Examples of this logic include:

Activity will take place at the same time along with another group of activities

Activity will begin after few days of the completion of another activity

External dependencies include a connection between project activities and non-task activities. Mostly outside the project team's control, the project management group figures out which dependencies are external during the process of sequencing the tasks.

Examples of External dependencies include:

Get approval from the external organization must be gotten before beginning an activity.

Finishing of a project milestone is connected to the completion of a milestone within another project.

Developing external dependencies in your project schedule can be cultivated in diverse ways:

Embed an achievement that reflects the accomplishment of the external dependency.

Embed a planning segment that reflects the scheduling of the external dependency.

Associate definite activities in other project plans that require utilization of big business planning tools

Involving a precedence relationship between project activities Internal Dependencies are generally within the control of the project team. The project management team figures out which conditions are inward amid the way toward sequencing the activities.

For instance,
Types of Dependencies or Logical Relationships
The Precedence Diagramming Method (PDM) includes four types' dependencies, and each one has its specific area of application.
Finish-to-Start

Finish-to-Finish

Start-to-Start

Start-to-Finish
Finish-To-Start: Until the predecessor activity is complete, the successor activity cannot start.
Finish-To-Finish:The successor activity can't be completed until the point that a predecessor activity is complete.
Start-To-Start:Unless the predecessor activity has not started a successor activity cannot start.
Start-To-Finish:Until the predecessor activity has not begun, a successor activity cannot finish.
To Conclude
In several large and complex projects, identifying dependencies enables teams to figure out which of their decisions may affect other groups. It might likewise impact the relative request in which a team executes its assignments to develop the deliverables.
Know more about project management best practices through Invensis Learning's Project Management certification training on PMP, CAPM, PRINCE2, Project Management Fundamentals, P3O, and MSP. We are a trusted training partner for Fortune 500 companies and Government institutions globally. For on-site group training, please e-mail us at corporate@invensislearning.com.