Understanding the concept of Tailoring and Adopting PRINCE2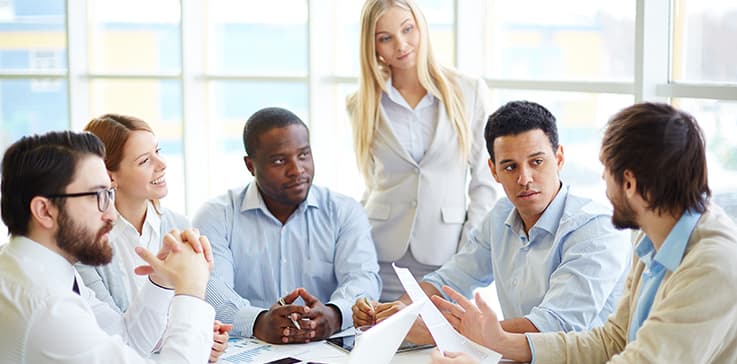 Today several firms can identify the latest changes occurring in technological trends. Regardless of whether the change is realized by financing requirements, new market opportunities, improvised policies, and controls or consistent enhancement, the expectations of the senior management in every organization is to expect quick outcomes and flawless delivery from the projects.
In this article, let us understand the tailoring and adopting of PRINCE2 in the projects.
Tailoring in PRINCE2 - Defined!
Tailoring refers to the proper utilization of PRINCE2 on the given task, guaranteeing that there is a right measure of planning, control, governance and use of the processes and themes.
Tailoring is available in the PRINCE2 course, while the PRINCE2 maturity model attains embedding. To be specific, in most projects, PRINCE2 is managed with tailoring and not embedding.
The Key Aspects of Tailoring PRINCE2 to suit different projects
Even though PRINCE2 can be utilized to run a particular project, it can likewise be tailored by organizations to make their own "PRINCE2-based project management strategy".
Utilization of tailoring in PRINCE2 can be emphasized, and the components of PRINCE2 can be blended with corporate approaches, procedures, terminology, and different aspects to make a technique which suits the organization culture and the nature of projects the team undertakes.
The following aspects of PRINCE2 2017 may be tailored: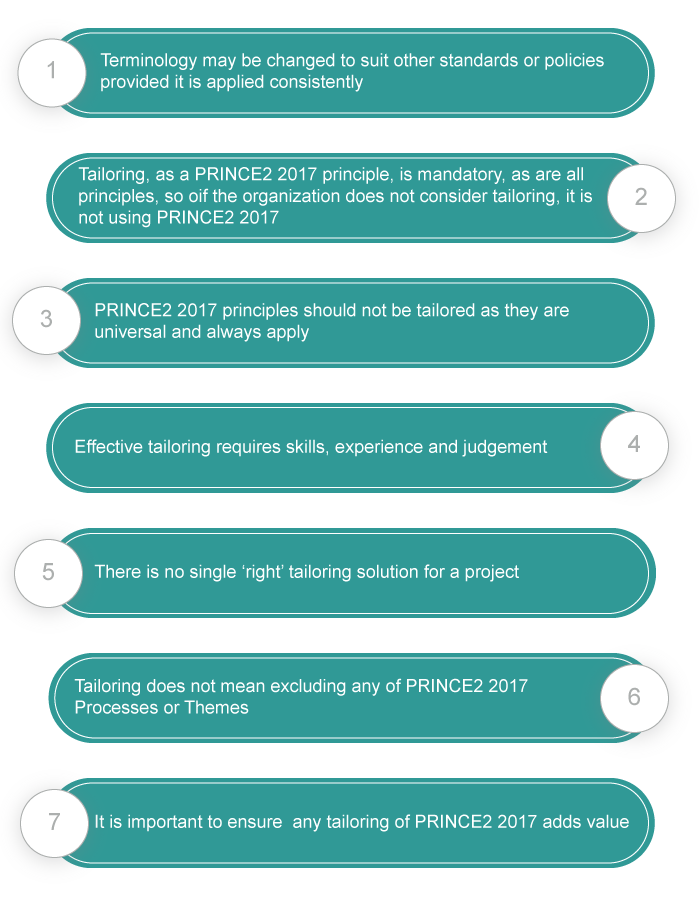 Image Source : https://www.projex.com
Professionals in organizations whose project management skills are extraordinarily high are probably going to implement a more natural tailoring approach than those working in organizations that are less developed. They are additionally liable to adopt an alternate strategy to tailor that reflects the more significant amount of abilities and competencies in the organization.
Adopting in PRINCE2-Defined!
Organizations adopt PRINCE2 by tailoring it to their needs, often creating their PRINCE2-based method and then embedding its use within their working practices.
How to Adopt PRINCE2 in an organizational environment?
It is critical for each project manager to work mainly with a PRINCE2 approach to make a management approach concerning the time anticipated that would tailor PRINCE2 the project management groups ought to learn new methodologies for each venture they work on.
Adopting PRINCE2 in an organization involves two principal activities: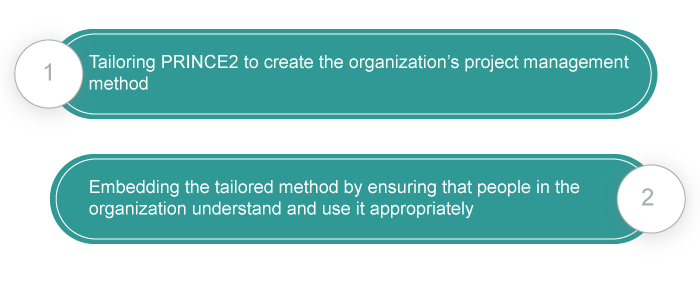 Furthermore, the productive uses of PRINCE2 in an organization are:
The modules from one project cannot be easily implemented on other projects. The teams need to invent different approaches to make the project unique continuously.

There has to be a standard approach to build common information support systems to avoid problems.

Training is likely to be generic, rather than focused on the organization's particular challenges, and hence less effective.
Therefore, numerous organizations think that it's more fruitful and proficient to build their project management strategy based on PRINCE2 and tailored to suit their requirements and conditions.
By tailoring and adopting PRINCE2 increases the business performance through the compelling utilization of project management strategies through firms that has been shown using development evaluations: the higher the development an organization achieves, the more viable it is in business terms.
Know more about project management best practices through Invensis Learning's Project Management certification training on PMP, CAPM, PRINCE2, Project Management Fundamentals, P3O, and MSP. We are a trusted training partner for Fortune 500 companies and Government institutions globally. For on-site group training, please e-mail us at corporate@invensislearning.com.