COBIT 5 Implementation Certification Salary
Did you know that COBIT 5 certification salary range is the highest?
COBIT 5 Implementation provides you with the knowledge on applying COBIT to business challenges and scenarios within. You acquire a practical understanding of implementing and integrating COBIT, thereby reducing business risk and boosting performance. With that said, how much do you think a COBIT 5 certification salary range is?
COBIT 5 Certification Salary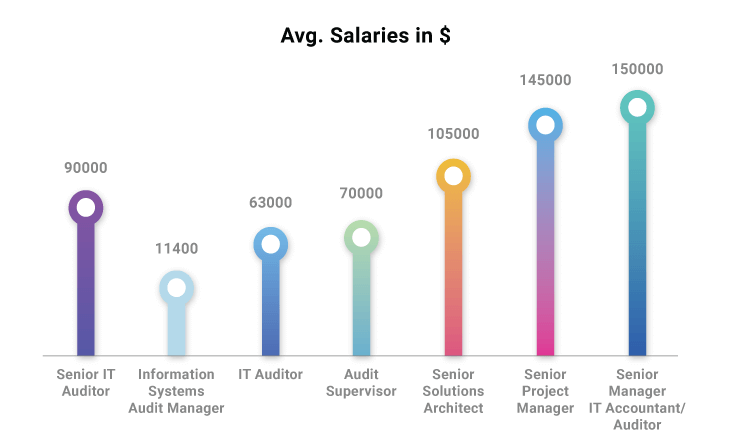 Of all the Information Technology based certifications represented annually in the Global Knowledge IT Skills and Salary Report, ISACA certification programs are more prominent in the top-paying certifications list. More so, ISACA's certifications in cybersecurity and governance (i.e., COBIT 5) produce the highest salaries. IT governance ranks second highest with cybersecurity taking the fifth slot in average global salaries by category.
Professionals certified in COBIT 5 earn an average monthly salary that ranges from $40,000 to $160,000. Information security, as it is, is an exciting and booming industry. Protecting users and their data is an arduous task and a career in this field is lucrative as researched in the top infosec jobs based on overall pay grade. For instance, a Security Architect, who is a senior-level employee responsible for building and maintaining computer hardware and network security infrastructure in an organization. This professional is expected to develop a comprehensive layout of an organization's technology and information needs, and further expose their security structures to vigorous tests.
Security Architects are well versed in COBIT 5 Implementation, frameworks, risk assessment, and operating systems and can earn a median salary of $120,181 according to PayScale. (Salary range $84,258 - $154,075)
COBIT 5 is aimed at organizations of all sizes and all sectors. In any involvement of IT quality assurance, IT risk management, data security and control, COBIT 5 Implementation is an essential certificate to have.
COBIT 5 Implementation will immensely benefit you in the IT industry. It also poses an advantage for your career advancement purposes. Listed below are some of the jobs this certificate will benefit you in, along with the salary per annum.
IT Manager – US$ 48,288 per annum
IT Quality Assurance Manager – US$43,584 per annum
IT Auditor – US$49,844 per annum
IT Consultant – US$50,322 per annum
IT Operations Manager – US$56,370 per annum