Agile Certified Practitioner (PMI-ACP) Job Opportunities
Your path to Better Career Opportunities After PMI-ACP
A Project Management Institute (PMI)-Agile Certified Practitioner certification has great importance in the field of project management and it can bring some positive changes to your career.

The PMI-ACP examination provides you with a competitive edge due to three main reasons:
Career options
Salary
Improving job understanding
Jobs that Require PMI-ACP Certification
The different PMI-ACP job opportunities and job titles are as follows:
PMP Scrum Master
Technical Business Analyst
Agile Trainer
Project Manager
Digital Channel Planner
Deputy Project Manager
Director – Planning and Project Management
Business Analyst
Agile Project Manager
Salary of PMI-ACP Professionals
The various PMI-ACP career opportunities translate to better salary prospects as well. Project management is a competitive field and the more skills you have under your belt, the more you can progress.
The salary of a PMI-ACP certified professional is approximately 28% higher than a non-certified professional. PMI-ACP professionals have a high value in the industry, which is the reason for the higher salary.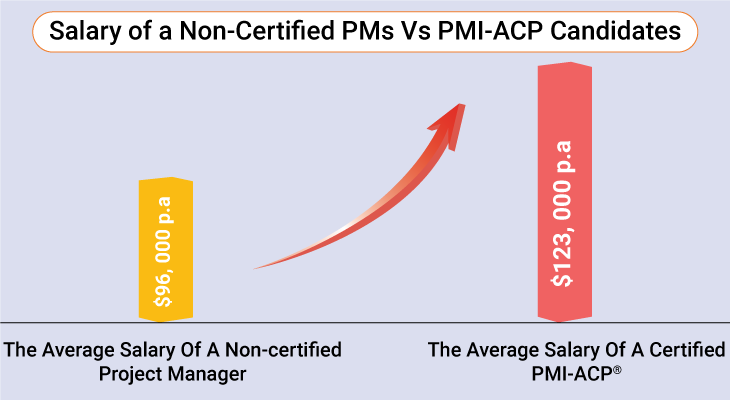 The following salary trend displays that PMI-ACP professionals earn a stable premium salary: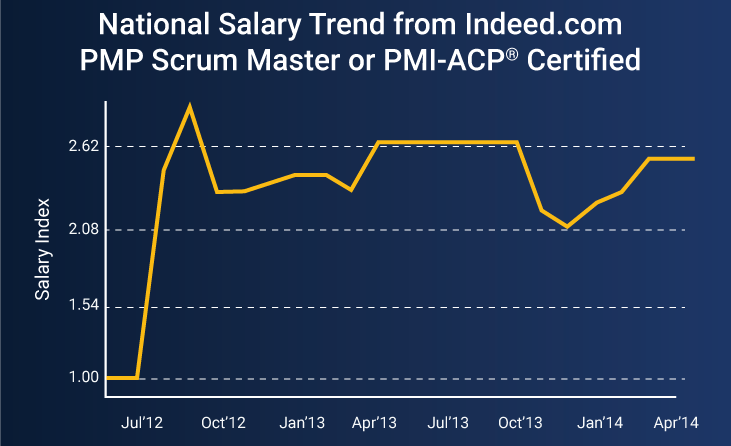 Improving Job Understanding
Experts say that the most important benefit of this examination is that because there is more skill involved that can be applied in lesser time than previously, people who get this certification can actually end up reducing stress from their lives.
Most people who successfully complete the certification say that they now better understand what they need to do and how to execute it compared to the situation before they got certified.
Some of the companies that have hired PMI-ACP professionals in the past are:
Visa
American Express
Mitchell
HP
Fusion Alliance
Microsoft
Disney Parks
Dell
United States Federal Reserve System
Here are what PMI-ACP professionals earn on an average:
| Job Role | Average Annual Salary |
| --- | --- |
| PMP Scrum Master/PMI-ACP Certified | $124,000 |
| Senior Technical Business Analyst | $92,000 |
| Agile Trainer | $92,000 |
| Agile Project Manager | $102,000 |
Currently, there is a shortage of professionals who have a correct understanding of Agile and can implement the process in running projects. So, if professionals already understand Agile as developers or Project Managers, PMI-ACP is the perfect platform to showcase their skills
The Agile community is expanding, and the world is beginning to implement Agile methodology very fast and in a major way of executing projects in a dynamic environment.
PMI-ACP is one of the few certifications that crosses the boundaries of methodology and does not focus on a single method only, normally Scrum. On the other hand, Agile is an overarching framework, that is a grouping of different methods like Scrum, Lean, XP, Kanban, Chrystal Clear, and so on
Typically, companies have a tendency of using more than one or a combination of these methodologies and therefore, the PMI-ACP certification offers a more well-rounded coverage of these skills, tools, and knowledge areas
The certification required you to demonstrate real experience with Agile instead of being related to theory only. You must demonstrate an Agile experience and pass a comprehensive exam evaluated by an accredited certification institute