Change Manager Resume
Change management positions are very demanding. Organizations are evolving to keep up with technological advances with these professionals. Projects with effective change management are more likely to be successful than those without change management. As a result, the discipline of change management and the change management job market are growing rapidly. Hence, becoming a change manager is very challenging. Having a perfect change manager resume is very essential to seek your job. In this article, let us find the best way to draft a perfect change manager resume.
Now let us start the discussion by knowing who a change manager is.
Who is a Change Manager?
As the name suggests, a change manager handles the changes needed to be taken in any workplace. Likewise, change management is a process of implementing structural or systemic changes that enhance the company's status.
The change managers are mainly responsible to plan, develop, implement, deliver, and validate the changes occurring in the management. These managers will have to go into many procedures like getting trained, communicating with all the stakeholders, coaching new members, etc. These managers work with people across various levels of an organization. They also provide excellent support and advice to many other managers to directly help project teams during the transition period.
After knowing who a change manager is, we shall dive into the main topic of our article.
What to Add in Your Change Manager Resume?
A resume is a very vital document in every job search. Your resume's ultimate goal is to quickly show the recruiters who you are, what skills you possess, and whether your performance and experiences match the position you're applying for. Although many resume formats are present, it is recommended to add skills, education, professional history, industry, and position. Now, we shall outline those topics that are to be included in your resume.
Resume Summary
Recruiters will not take much time to read every resume. Researches say that recruiters spend less than 6 seconds to read your resume. So, your resume must be crisp and sharp. Keep it as small as possible but fit all the details into it.
Talking about resume summary, this particular section is essential. It becomes a deciding factor of either hiring you or dismissing you. Mention all your details appropriately like by describing your strong character traits in just a couple of words.
Core Skills a Change Manager Should Have
Change managers must possess a cross-disciplinary background and a unique combination of soft and hard skills. Having these skills becomes the first step in the journey of becoming a skilled change manager. Now let us point out these skills.
Knowing change management principles and best practices
Strategic analysis and planning
Measurement and analysis
Leadership quality for driving change programs
Enterprise change management capability
Managing others uncertainty
Effective project management ability
Knowledge about different change models and frameworks
Ability to influence others
Educational and training skills
Establish and maintain a strong relationship
Able to work with all levels in an organization
Problem-solving ability
Flexible and adaptable
Forward-looking with a holistic approach
Knowing about digital business models
Motivation throughout the process
Excellent communication skills
Excellent active listening skills
Roles and Responsibilities of a Change Manager
A change manager becomes essential for the success of any organization. These professionals play a vital role in changing the business processes, technologies, organizational structure, job roles, and systems. Their main aim is to prepare the organization for change to gain maximum benefits and profits. They implement change management strategies that ensure a faster rate of adoption and minimizing resistance to change. Let us now outline some of the roles and responsibilities of a change manager
Must have a structured methodology and lead change management activities
Create strategies to support the adoption of the changes required by a project
Integrate change management activities into the project plan
Identify, analyze and prepare risk mitigation tactics
Design, develop, deliver, and manage all sorts of communication
Support organizational design and definition
Provide input and other document requirements
Support the creation of various training programs
Must be a team player with collaborative nature
Complete change management assessments
Identify and manage anticipated resistance
Manage different stakeholders
Define, measure, and monitor change progress
Support change management at the organizational level
Manage the change portfolio
Sample Change Manager Job Descrption
Cognizant - Change Manager Resume
IBM - Senior Change Manager Resume
Work Experience
If you have significant experience as a change manager, then you can mention them in this section of your resume. Point out every detail, starting from the company's name to the number of years of experience. Also, try to mention all the skills you have learned. Also, note all the awards that you have benefitted from the company.
What if You do not Have Work Experience?
What if you have just graduated or have no experience as a change manager? It does not matter at all. If you have never held this job title as a "change manager,"; you can still have this job if you have the right skills and qualifications.
Education
In this particular section, mention all your educational details starting from your highest degree till the schoolings; Mention your grade and other information regarding your educational background.
What Else Can You Include in Your Change Manager Resume?
Now that you know what sections are to be added to a resume, we shall see some additional parameters that you can include. Some of them are mentioned below:
Awards & Certificates
You may have received many awards or certifications during your career or in your studies. You can include them in this section.
Languages
Many people now can speak many languages. This becomes an extra point for you as it can make the manager know that you can help them deal with many other clients. Add the languages and rank them with your writing, speaking, and reading ability.
Sample Change Management Resume
Based on the components we discussed above, a sample resume is created below. This can help you while creating your resume.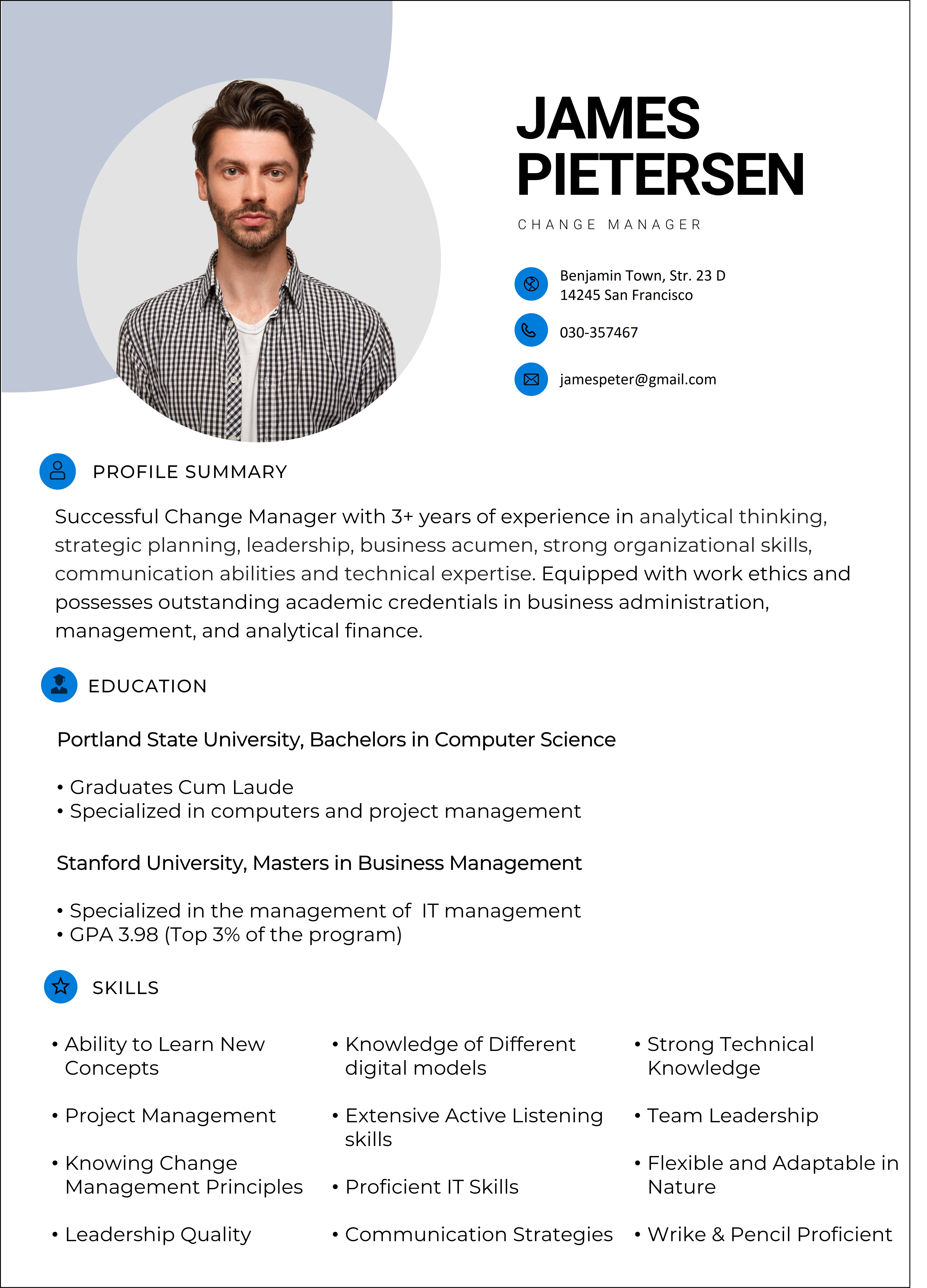 Conclusion
Having a perfect change manager resume grabs the attention of hiring managers. So, it is better to have a clear and structured resume. So, try to add as much of your skills to the resume and become a great change manager.
According to the data found on PayScale, "The average salary for a change manager is found to be $93,926" so, before it becomes too late, try becoming one. If you are willing to kickstart your career as a change manager, then get started today with Invensis Learning's Change Management Certification Program.