Detailed Guide to a Career in DevOps
Interested to pursue a career in DevOps? We explore the scope, salary, job options and growth opportunities of pursuing a career in DevOps.
The Future Scope of DevOps
DevOps is a set of processes that combine the Development and Operations practices in order to optimize the delivery lifecycle of a product, be it the product release itself or updates, bug fixes, etc. DevOps contains two main features that make it appealing to organizations: its ability to speed up the delivery of products and the collaboration of the development and operations teams. Here is a DevOps adoption statistic report curated by RightScale and sourced by jaxenter:

And here is a report sourced by cloudtp on the growth in the adoption of DevOps tools between 2016 and 2017:
Both reports clearly show the growing trend in DevOps adoption. This is a positive indicator of the DevOps future scope for developers and IT professionals making it a lucrative career option. Here are some companies that currently employ DevOps professionals, according to PayScale, indicating the possible DevOps job opportunities:
Tata Consultancy Services Limited
Accenture Technology Solutions
Amazon.com Inc
Wipro Technologies Ltd.
Accenture
Oracle Corp.
IBM India Private Limited
InfoSys Limited
This report by indeed.com (sourced by edureka) shows the increase in job listings for DevOps professionals from 2014 - 2017: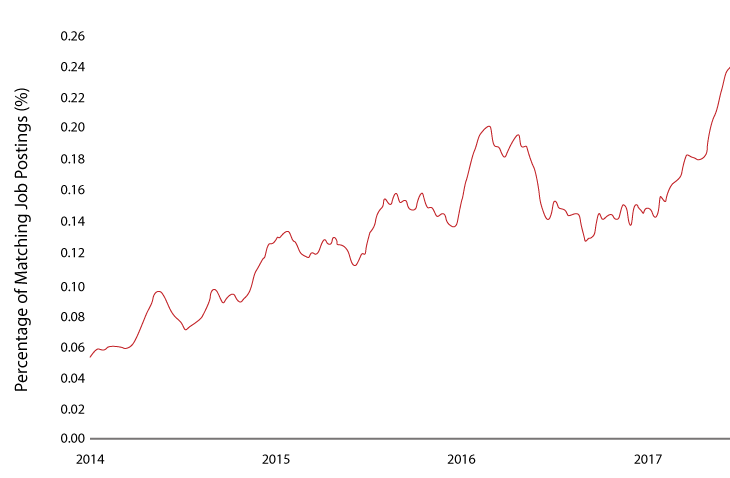 The trend reports and list of top tier companies currently leveraging DevOps makes the future scope of DevOps abundantly clear. Its penetration in the industry is increasing the scope for you to grow with it is massive. Your DevOps career path can follow one of the many roles and responsibilities:
DevOps Architect
Security Engineer
Automation Engineer
Release Manager
Software Tester
Integration Specialist
Salary Benefits For a DevOps Professional
According to a report by PayScale, the median salary for a DevOps professional is Rs 6.5L per annum. On average, an entry-level DevOps professional earns Rs 3.6L, and in their early career, the average salary can go up to Rs 5.7L. The same report indicates that an experienced DevOps professional can earn a median salary of Rs 20L per annum. The following graph presented by PayScale better highlights the increase in salary with experience: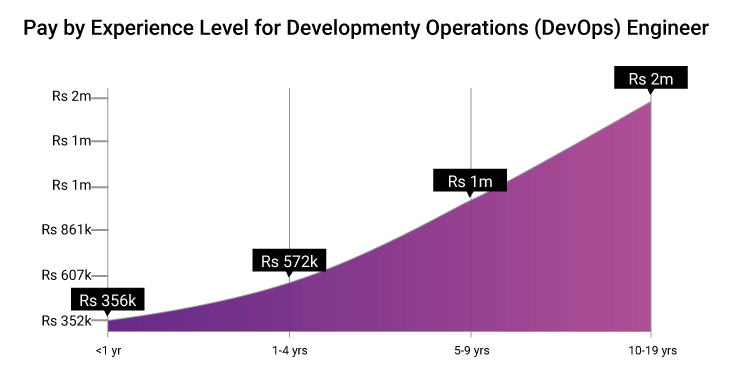 This report also lists top companies that employ DevOps professionals and their average salaries:
Amazon.com Inc (for Rs 10,00,000).
Oracle Corp. (for Rs 10,00,000).
IBM India Private Limited (for Rs 9,00,000).
Tata Consultancy Services Limited (for Rs 6,27,000).
Wipro Technologies Ltd. (Rs 6,25,000).
The salary benefits and monetary growth curve make it clear that a career in DevOps is a smart decision.
Kickstart Your Career With DevOps
If you're a fresher or experienced engineer or developer, getting started with DevOps is now easier than ever. Your first step is to begin training in DevOps concepts through a reputed training institute. Once you are familiar with the tools and concepts of DevOps, try to implement it within your current organization, or practice with mock setups and VMs. Acquire further knowledge on the technical DevOps tools (like Docker, Ansible, etc.) and also the operations concepts within Agile. Get certified and then you can then consider moving to a DevOps role within your organization, or look for a job within other reputed companies. DevOps has huge scope and potential, and it is the right time to begin your career as a DevOps professional.