Product Owner Salary
A Product Owner (PO) plays a crucial role in a Scrum environment. Experienced, skilled, and reliable POs are often aggressively sought-after and highly valued by many organizations that are adopting both Agile methodology and Scrum framework. As a result of this huge demand and the critical responsibilities that PO takes in a company, the average salary of a POs can be as high as $120,000 (in the United States). Salary can often be a key motivator for many professionals. Read on to find out more about Product Owner Salary.
Demand for Product Owner Role
Product Owner role is a new concept for most organizations that are switching to Agile Project Methodology. Nonetheless, the demand for a Product Owner continues to grow daily. According to the report created by the World Economic Forum, product owner is one of the most emerging jobs in the product development domain. This particular role is experiencing tremendous growth and has been identified in the top 15 emerging jobs in 2020 by LinkedIn with a 24% annual growth in the United States.
Driven by changes in how software is developed, the growing importance of data, the evolution of product development practices, the scope of product owners is expanding. Organizations are looking for product owners with great customer experience, business acumen, market orientation, technical skills, and soft skills.
How Much Does a Product Owner Typically Make?
According to salary sites like PayScale and Glassdoor, the salary range for a Product Owner typically falls between $86,000 and $122,000 (in the United States). There are a number of reasons why the salary range is so broad, such as education, geographic location, certifications, additional skills, the number of years you have spent in your profession.
Product Owner Salary by Experience Level
No matter which role you are looking for, seniority is the main driver of salary ranges. Product owners are no different. Let's take a look at the average base salary of a Product Owner, based on their level of experience.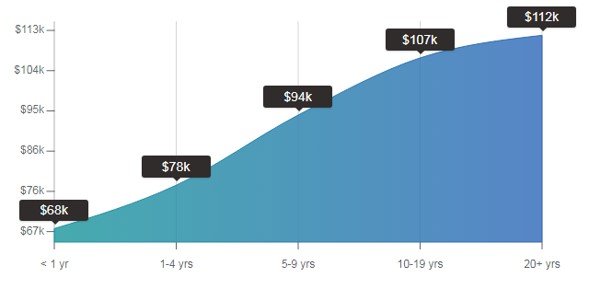 Source: PayScale
An entry-level Product Owner with less than 1 year of experience can expect an average total compensation of $68,048. An early career Product Owner with 1-4 years of experience and a mid-career Product Owner with 5-9 years of experience earns an average total compensation of $77,874 and $93,744 respectively. An experienced Product Owner with 10-19 years of experience and senior Product Owner with experience of 20 years and higher, earn an average total compensation of $106,684 and $111,791 respectively.
Note: The average compensation mentioned here includes tips, bonus, and overtime pay. Also, the numbers stated here are not reflective of the national average and are just based on a large number of US cities.
Product Owner Salary Based on Location
The average salary of a Product Owner in the different countries is as shown below:
| | |
| --- | --- |
| Country | Salary (annually) |
| United States | $86,240 |
| India | ₹1,539,490 |
| Canada | C$77,649 |
| United Kingdom | £41,933 |
| Australia | AU$109,243 |
Product Owner Salary Based on Industry
Some of the fast-growing industries have a higher demand for Product Owners. According to a survey, domains such as telecommunication, IT, and finance tend to offer much higher salaries for Product Owners. Please refer to the table for more details.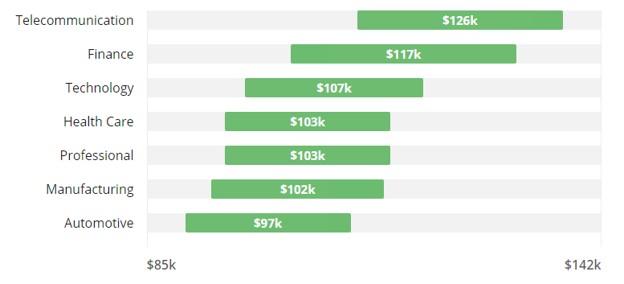 Source: ZIPPIA
Note: The numbers stated here are not reflective of the national average and are just based on a large number of US cities.
The average salary also varies depending on the company that you are applying for. For example, in the United States, the best-paying companies for the entry-level, early career, and mid-career Product Owners are shown in the table below (according to PayScale):
| | |
| --- | --- |
| Company | Salary (in $ annually) |
| J.P. Morgan Chase & Co. (JPMCC) | 91,109 |
| Charles Schwab & Co., Inc. | 82,300 |
| Quicken Loans | 76,000 |
| Discover Financial Services LLC | 84,000 |
| Relias Learning | 52,000 |
| Usaa Insurance | 92,000 |
| Applied Systems, Inc. | 68,000 |
| Clearwater Analytics | 67,000 |
| UnitedHealth Group | 86,000 |
| MRI Software | 64,000 |
This is not an exhaustive list.
Product Owner Salary Based on Certifications
Beyond a relevant degree and some work experience, Product Owners can build out competitive skills by obtaining professional certifications. While it is usually not a strict requirement, if you are a Certified Product Owner, your chances of finding good employment will vastly increase. The average salary for a professional with CSPO certification in the United States is $105,034.
According to PayScale, the pay ranges for people with a Certified Scrum Product Owner (CSPO) certification by employers is as follows:
| | |
| --- | --- |
| Company | Salary Range |
| Capital One Financial Corp | $79k - $157k |
| Amazon.com Inc | $98k - $159k |
| Fidelity Investments | $66k - $109k |
| J.P. Morgan Chase & Co. (JPMCC) | $84k - $163k |
| American Express Co. (AMEX) | $87k - $171k |
Therefore, if you are not certified yet, make sure to check out the Certified Scrum Product Owner CSPO Training at Invensis Learning.
Product Owner Certification Training at Invensis Learning
Like I mentioned earlier, earning a Product Owner certification opens up new possibilities and can increase your paycheck. At Invensis Learning, we offer certification training for different Product Owner certifications such as CSPO and PSPO. Through these programs, you will learn to fulfill your role as Product Owner and how to help your Scrum team perform at the optimum level. They will also accelerate your journey in pursuing a career in Agile.