Understanding Estimate Activity Durations in Project Management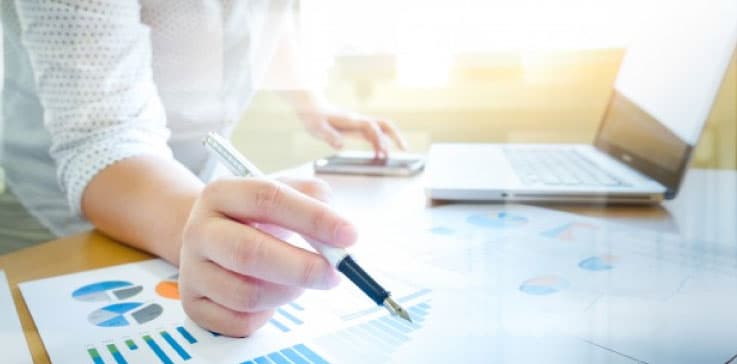 Is estimating project durations hard? Why? For many project management teams, it is a complex task to analyze or predict how long it takes to complete a project. Missing the deadlines and breaking budgets leads to faulty estimates in large and complex projects. Upon the point of delivery, project teams utilize a refined estimation to predict the future.
It's not a simple task to estimate the project duration. Hence, Project Manager's should consider knowing some theory along with the application of some approved procedures and strategies. For project managers understanding the essential aspect of project management is to study how various tasks can be performed at the beginning of a project and estimating activity durations is one of them.
Estimate Activity Durations Definition
Estimate Activity Durations is the technique towards evaluating the number of work periods required to finish individual activities with estimated resources. The key advantage of this procedure is that it projects the amount of time that every task will take to complete, which is a significant input to Develop Schedule process. Subsequently, as activity resources are determined, the resources estimate the activity durations for project completion timelines.
Estimate activity durations being a lengthy process, project managers should involve the entire project team in estimating the durations of the project. Estimate Activity Durations helps to achieve the project objectives on the set dates and delivery schedules as decided by the project management team and key stakeholders. Depending on this durations, you can develop a plan to set milestones for your project.
Methods of Estimating Activity Durations in Project Management
Fortunately, involving a skilled estimator in a project management team is essential, as it helps in setting schedules, establishing budgets, managing resources, and managing a successful team and business.
Utilizing the right software for the project would be of great help, but being aware of the methods and learning how to implement those methods is how one becomes a great estimator.
Estimate Activity Durations - Tools and Techniques
Following are the Tools & Techniques for estimating the activities that work for all types of projects.
Expert Judgment: It is the most commonly used method to get an estimate; it's essential for the project management team to include experts with the best hands-on experience in understanding on how to utilize the project requirements. It is also crucial to ensure that everyone shares a mutual knowledge of what needs to be delivered. Also, look for experts who will be working on the project.

Analogous Estimation: It is a method that helps a project management team to refer to similar and existing projects that can be helpful to evaluate the activity durations of the current project. Analogous estimation method can help a project manager to estimate the durations for the completion of the project. Ensure that the previous projects that are similar to the current task are a success. The fastest technique to calculate the estimate, an analogous method of estimating can be used when limited information about the project is available.

PERT Method is an instance that might analyze statistically to evaluate the ERP project implementation to check the duration of the project. However, this method may not give a precise prediction. This technique utilizes the knowledge and experience of an expert to present an important date when a couple of data don't permit to carry particular analysis. The ability to verify the assessed project duration period in term of its probability to meet organized value justifies the generally utilizing PERT technique by project managers. The strategy is extremely straightforward and can be valuable for complex projects. Its imperfection, lamentably, is that any precision of the strategy's parameters expectation will rely upon the accuracy of thoughts taken to concerning single individual tasks run-time assumptions.

Three Point Estimates: Under the three-point estimates procedures, the PERT (Program Evaluation and Review Technique) is the most broadly utilized statistical tool to decide the time duration of a project. In Project Management, PERT technique is the best way to determine estimate activity durations of a Project. It uses three-time estimates to determine a rough period of the estimate activity durations.

These three-time estimates are as follows:

Parametric Estimating: Similar to the analogous estimation method parametric estimation employs historical information and various parameters to analyze the estimated duration of a project. Parametric estimation also utilizes actual connections between recorded data and variables. It is more precise than the analogous technique.

Alternative Analysis allows you to take a glimpse at different approaches to allot resources by changing the number of resources and decide on the best one.

Published Estimating Data A technique utilized to estimate activity resources. This technique includes articles, books, journals and periodicals from different businesses that have demonstrated information on similar projects. Using the Published Estimating Data, Project Managers can make a rough estimation of what number of assets they require for the project.

Vendor Bid Analysis: The project team uses this strategy when they are assigned to work on a project along with external vendors or contractors to complete the project activities. This strategy assists project managers to analyze what the project cost should be based on the offers from vendors and estimate the value of deliverables.
The stability of the scheduled activities relies upon the precision of the length of the whole project activities. The motivation behind why estimation strategies like similar to estimating, parametric assessing and three-point estimating are incredibly significant.
How to Calculate Estimate Activity Durations?
Effort, duration, and cost are the three most essential estimates required for a project. Once you know the requirements, the process becomes simple to calculate estimate activity durations of the project.
Use the following process to estimate the total durations required for your project:
Analyze previous projects that are similar to the task that the project team working.

Reach out to the professionals with the best hands-on experience and understanding of the project requirements.

Techniques such as Work Breakdown Structure, an analogy can be utilized to estimate activity durations in project management.

Decide how precise your estimate should be. If the project has to be in detail, then the time duration might increase and invest a lot of time to understand workflow in detail.

Include contingency hours. This is utilized to reflect risk or any uncertainty associated with the estimate.
The Key Benefits of Estimating Activity Durations in Project Management
The productivity of the work is considered necessary. An employee with more experience can afford to provide higher productivity than a less experienced one. For employees with irrelevant skills will add less output that slows down the production and decision-making process in a project.
Following are the key advantages of Estimating Activity Durations in Project Management:
It gives the amount of time that every task will take to complete, which is a significant input to Develop Schedule process.

It provides the amount of time that each activity will require for it to complete.

Inputs such as the schedule management plan, activity list, activity attributes, resource calendars, project scope statement, risk register, resource breakdown structure are necessary to come up with a reasonable estimate for each task involved in the project lifecycle.

Estimate activity Durations in project Management helps project managers to accurately and precisely create estimates of the project activities.

Estimate Activity Durations process will ensure that everything will be right on schedule.
Activity Durations Estimates Example
Example Project
To build our log home, we would inspect each resource calender, use one of the four estimating techniques, and determine the amount of time required for each activity.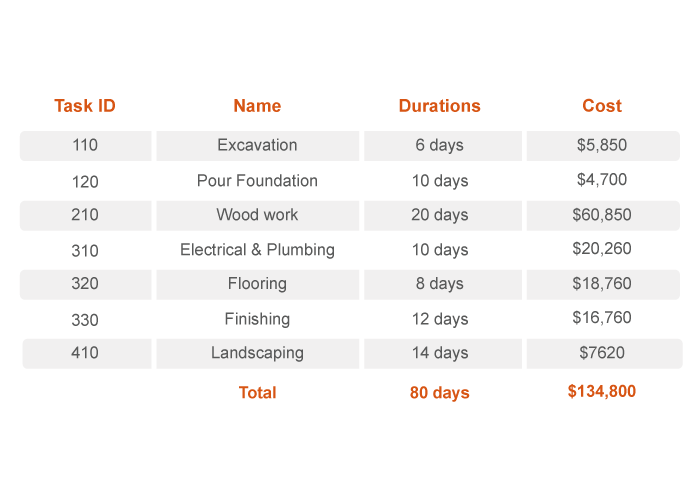 Image Source: https://bit.ly/2E6lqHF
The total of 80 days is great starting point, but it will still change.
Wrap-up
Estimating the duration of a project—or its various phases—can help you successfully manage a project that is completed on time and budget. Estimation of the project duration, the initial step for accuracy enhances the odds of building a reliable project schedule.
Know more about project management best practices through Invensis Learning's Project Management certification training on PMP, CAPM, PRINCE2, Project Management Fundamentals, P3O, and MSP. We are a trusted training partner for Fortune 500 companies and Government institutions globally. For on-site group training, please e-mail us at corporate@invensislearning.com.