9 Steps to a Successful Project Kick-off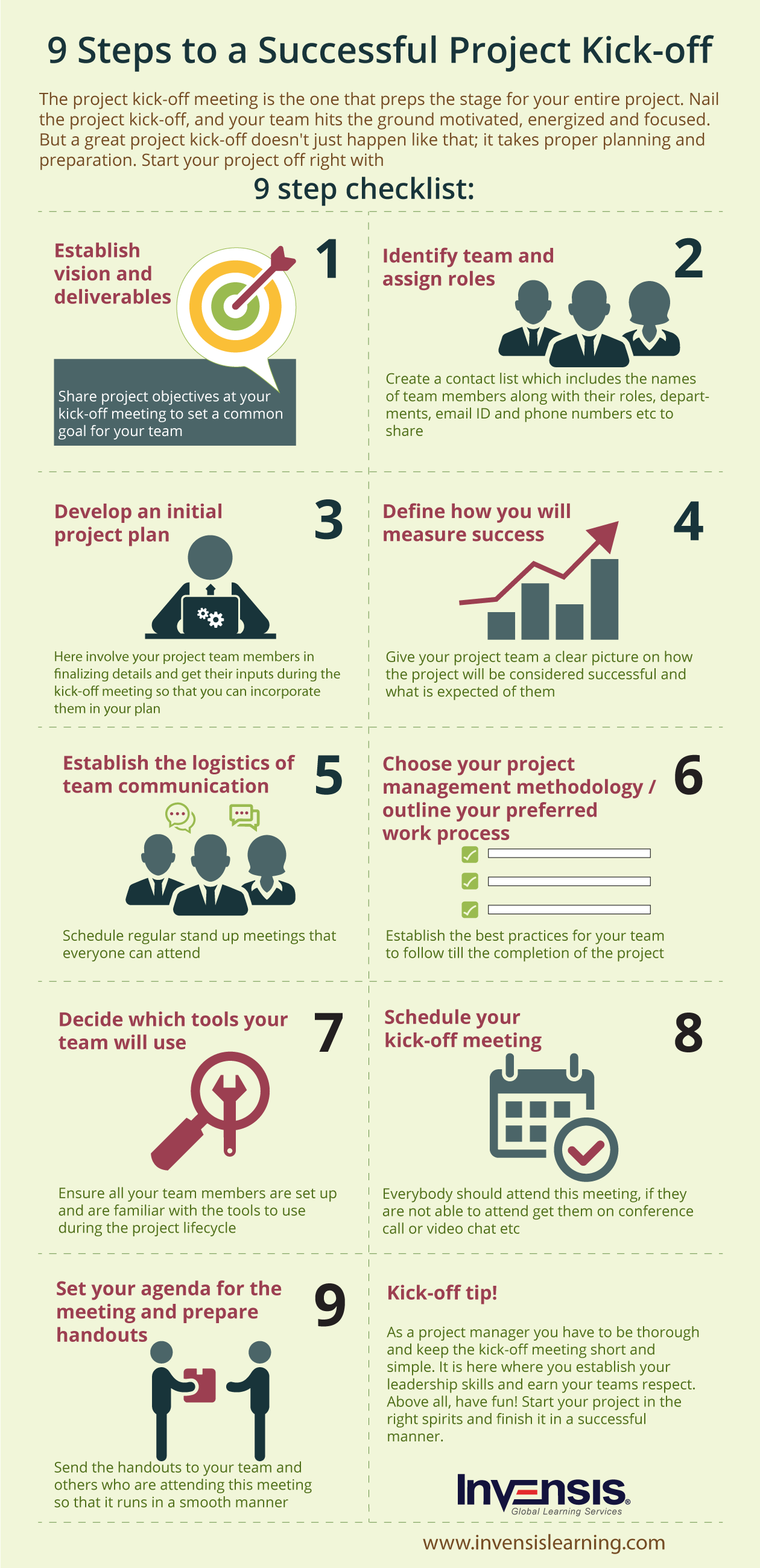 The project kick-off meeting is the one that preps the stage for your entire project. Nail the project kick-off, and your team hits the ground motivated, energized and focused. But a great project kick-off doesn't just happen like that; it takes proper planning and preparation. Start your project off right with 9 step checklist:
Establish vision and deliverables:

Share project objectives at your kick-off meeting to set a common goal for your team

Identify team and assign roles:

Create a contact list which includes the names of team members along with their roles, departments, email ID and phone numbers etc to share

Develop an initial project plan:

Here involve your project team members in ­finalizing details and get their inputs during the kick-off meeting so that you can incorporate them in your plan

Define how you will measure success:

Give your project team a clear picture on how the project will be considered successful and what is expected of them

Establish the logistics of team communication:

Schedule regular stand up meetings that everyone can attend

Choose your project management methodology / outline your preferred work process:

Establish the best practices for your team to follow till the completion of the project. Which project management best practices are they supposed to use and what is the preferred process they have to adhere to.

Decide which tools your team will use:

Ensure all your team members are set up and are familiar with the tools to use during the project lifecycle.

Schedule your kick-off meeting:

Everybody should attend this meeting, if they are not able to attend get them on conference call or video chat etc.

Set your agenda for the meeting and prepare handouts:

Send the handouts to your team and others who are attending this meeting so that it runs in a smooth manner.
Kick-off tip!
As a project manager you have to be thorough and keep the kick-off meeting short and simple. It is here where you establish your leadership skills and earn your teams respect. Above all, have fun! Start your project in the right spirits and finish it in a successful manner
Know more about project management best practices through Invensis Learning's Project Management certification training on PMP, CAPM, PRINCE2, Project Management Fundamentals, P3O, and MSP. We are a trusted training partner for Fortune 500 companies and Government institutions globally. For on-site group training, please e-mail us at corporate@invensislearning.com.