A Comprehensive Understanding of the Role of a Project Manager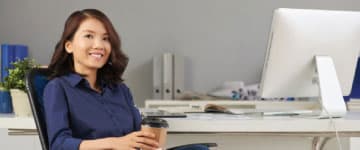 According to PMBOK®, the project manager is the person assigned by the performing organization to lead the team that is responsible for achieving the project objectives. He is responsible for the successful initiation, planning, designs, execution, supervising, and closure of a project. Industries that produce products and services like IT industries use this job title.
Competencies of a Project Manager
While many skills are learned while managing a project, there are some pre-requisites that a project manager must possess to handle a project:
Knowledge

The person must have the knowledge and basics of handling a project.

Performance

Along with knowledge, its implementation is also critical. A good project manager possesses the ability to get results and quality after applying his project management knowledge.

Personal

His general behavior and outlook, which include his attitude, characteristics, core personality, and leadership skills, while managing a project also counts as a critical must-have skill to be a good project manager. It provides him the ability to lead the project team while attaining project objectives and balancing the project constraints.
Core responsibilities of a project manager
The project manager leads and oversees the project team to work on the assigned project on a daily basis with authority and responsibility from the project board. He plays a vital role in interfacing between the business area and the project also. Identification and removal of risk is also a crucial responsibility of a project manager. He is in charge of making every big and small decision in the project. Also, project management is a critical strategic discipline, so the project manager becomes the link between the team and the strategy.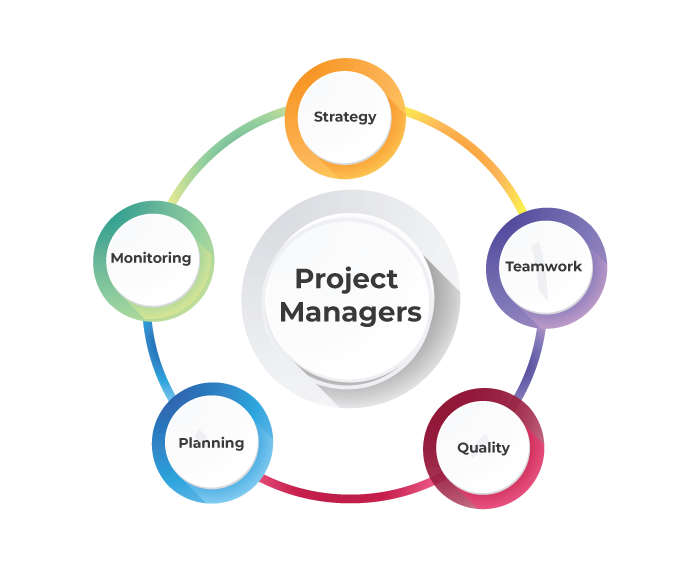 8 Key Roles and Responsibilities
Let's look at the key roles and responsibilities in detail:
Activity and resource planning

A clear set goal and a well-devised plan are very important for a successful project. To become a good project manager, you need to set a realistic aim and then plan and work according to it. Also, projects are risky and unpredictable. So, dealing with individual setbacks and making adjustments according to them is also expected from a project manager.

Organizing and motivating the project team

A good project manager does not walk ahead of the team but with them. Putting extreme pressure and signifying authority on the team members would hamper their work quality. A responsible project manager would instead set clear objectives, explain it to the team members elaborately, and would try to motivate them to reach their full potential.

Controlling time management

The time management in any project is very critical. Delay in delivering the project on time is considered failure. A good project manager knows this and sets a realistic deadline so that neither the quality of the product gets compromised nor the client has to wait for a long time.

Cost estimating and developing the budget

The client will not oblige for a well-executed project also if it is massively over-budgeted. The project manager keeps a regular check on the budget and does not let it diverge much from the set budget.

Ensuring customer satisfaction

The client has certain expectations in mind when he assigns a particular project to a team. Too much deviation from his expectation could lead to dissatisfaction and unhappiness. The project manager makes sure that it doesn't happen.

Analyzing and managing project risk

Due to unpredictability and complexity associated, projects are at high risk. More complicated the project, higher the risk. The project manager's job is to deal with them and minimize them to the least.

Monitoring progress

During a project's lifecycle, it goes through many twists and turns. If any of the constraints of the project (budget, time, etc.) changes, at least one more has to be adjusted. The tact of deciding which will make less impact on quality of the project is the responsibility of a project manager.

Managing reports and necessary documentation

A good project manager knows how crucial is the documentation of the details of what was done, who was involved, and what could be done better in the future. So, at the end of the projects, he prepares a comprehensive report including the same.
Every project, whether complicated or simple, needs someone to maintain its quality and efficiency. It is one of the most demanded professions today, and more than 90% of the high performing organizations include this post in their team. Almost every business needs a person with knowledge, a right outlook, a clear vision, and excellent leadership skills to face the challenges and unpredictability that arise in a project. For a person to become one, he should be adequately trained in project management techniques and processes.
Know more about project management best practices through Invensis Learning's Project Management certification training on PMP, CAPM, PRINCE2, Project Management Fundamentals, P3O, and MSP. We are a trusted training partner for Fortune 500 companies and Government institutions globally. For on-site group training, please e-mail us at corporate@invensislearning.com.