Defining Activities in a Project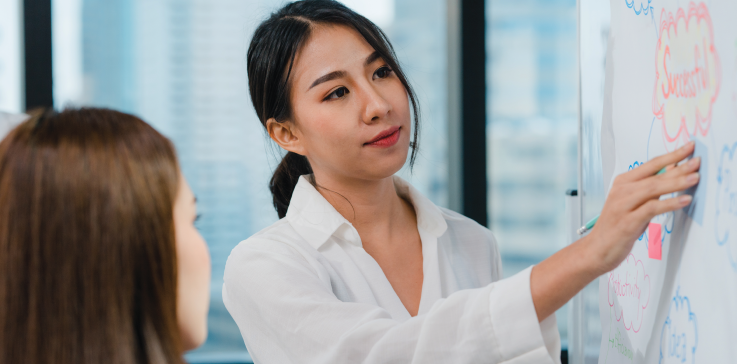 Project management dates back to the 19th century. Today every organization has realized the benefits of organizing the tasks in the project. Project managers have started identifying the need to communicate and coordinate work across departments and professions. Thus, a defined method of project management emerged.
The end-results for every business can be tangible or intangible. But getting to that result, successfully, is what project management is all about. Primarily, the project management teams mostly focus on the planning and control that involves in delivering the result.
In this regard, here is a summary of all that Defining Activities in a Project encompasses.
What is Defining Activities of a Project?
In Project Management, 'activities' characterize the measure of work that changes over a plan for appropriate outcomes. Activities in a project are the method to identify and document the activities that are accessible to produce the project deliverables.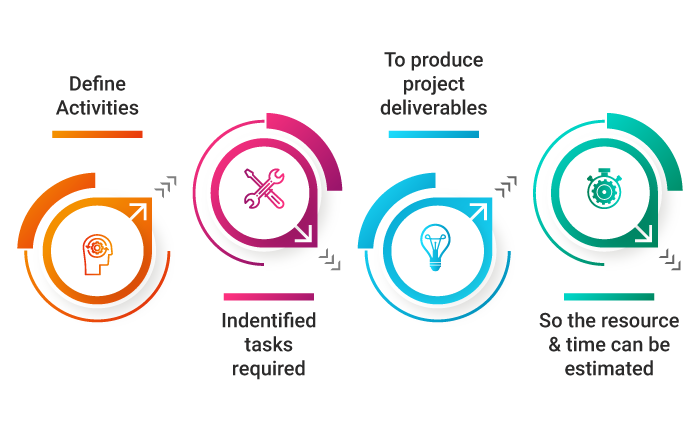 Define Activities - According to the PMBOK Guide
Define Activities is the process of identifying and documenting the specific actions to be performed to produce the project deliverables.
Example of Define Activities
Let us look at John's project management skills as he manages house building project for his client, Josh.
It is a beautiful 3-bedroom duplex house on a land of 3600 square feet. Here is a quick look at the list of activities he has come up with from WBS work packages (blue boxes).
John's milestone list is:
Lay Foundation

Build Structure

Complete Interiors

Complete landscaping
He gets paid at the completion of each of these milestones.
Example source: https://www.pmexamsmartnotes.com
Key Benefit Define Activities of a Project
The key benefit of this process is that it decomposes work packages into schedule activities that provide a basis for estimating, scheduling, executing, monitoring, and controlling the project work. This process is performed throughout the project.
Work Breakdown Structure in Define Project Activities
To define activities in a project, you need to have the work package that is the Work Breakdown Structure, and thus it drives in as the prominent input of the scope baseline. In every project, activities could be estimated, scheduled, monitored and managed. A project manager should be familiar with two important things:
Scope baseline

Availability of a project team
Define Activities: Enterprise Environmental Factor
Project managers tend to face obstacles while working on projects. The obstructions caused by a lack of planning or any reasons that can be controlled or not. These situations are called Enterprise Environmental Factors.
There are tools for businesses that help in project management activities such as planning, WBS budget cost management, scheduling, and change control to deliver the best strategy. It could be utilized to define activities, and such systems are part of enterprise environmental factors.
Enterprise Environmental Factors also influences the defining activities process to incorporate Organizational cultures and structure, Published commercial information from commercial databases, and Project management information system (PMIS) that can impact the Project's success.
Purpose and Scope Baseline of Define Activities in Project Management
The purpose of defining activities in a project is to distinguish the particular task that has to be done with a specific objective to produce the project deliverables. The process should be done in adequate detail to estimate the resources and time that is required to complete.
Scope baseline being the primary input, consists the approved project scope statement, the work breakdown structure, and the WBS dictionary. It acts as the channel between the planning associated with scope management, and the time involved.
What are the Define Activities lists in Project Management?
The activity list is a comprehensive list including all schedule activities required by the project. The activity list includes the activity identifier and a scope of work description for each activity in sufficient detail to ensure the project team members understand what work is required to be completed.
Following are five time management processes of Activity list as per PMBOK® guide:
Sequence Activities

Estimate Activity Resources

Estimate Activity Durations

Develop Schedule

Control Schedule
Activity attributes extend the description of the activity by identifying the components associated with each one. The components for each activity evolve over time. Activity attributes can be used to identify the resource responsible for executing the work, where the work will be performed and the activity type. They are used for schedule development and for selecting, ordering and sorting the planned scheduled activities in various ways within reports.
A milestone is a significant point or event in the project. A milestone list identifies all milestones and indicates whether it is mandatory such as those required by contract or optional.
Define Activities involves the planning of a detailed depiction of the project and its significant deliverables. Defining activities requires sufficient data and proper work breakdown structure to provide the end-result.
Know more about project management best practices through Invensis Learning's Project Management certification training on PMP, CAPM, PRINCE2, Project Management Fundamentals, P3O, and MSP. We are a trusted training partner for Fortune 500 companies and Government institutions globally. For on-site group training, please e-mail us at corporate@invensislearning.com.