Top 9 Six Sigma Tools to Improve Processes in an Enterprise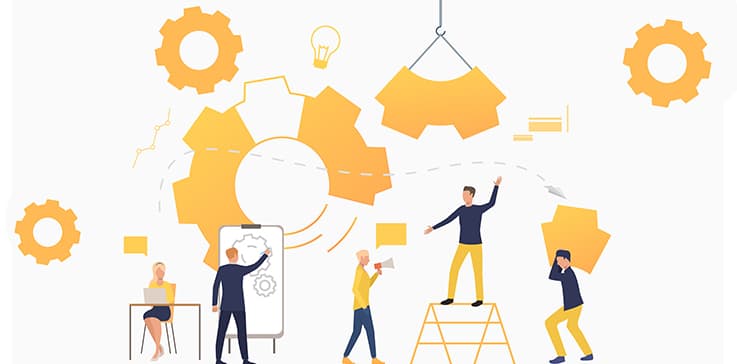 Six Sigma is one of the most widely-recognized process improvement methodologies used in enterprises around the world. According to Aberdeen's "Lean Six Sigma Benchmark report", it says that 65% of higher project savings occur by adhering to Six Sigma methodology.

When you undergo Lean Six Sigma training, you will come across many tools and techniques which will help you to solve problems, improve processes and identify solutions for Six Sigma projects in your organization. These skills acquired during your training program will help you to demonstrate your knowledge on when and how to use these Six Sigma tools in an organization. The popular DMAIC phase in Six Sigma will give you a chance to use certain tools more often than others. By using these tools you will be able to explore the problem and provide better solutions. Let us have a look at top 9 Six Sigma tools that help us to improve processes in an enterprise.

We will divide the tools relating to different phases of the DMAIC.
Define Phase:
Project Charter:

Project charter is something similar to an initial project plan which holds critical info towards the direction and main objective (goal) of the project. The project charter provides detailed information on the project scope, who is leading the project, key decision makers and team members. A well-defined project charter will also contain information on properly defined success metrics with project baselines and goals. It should also address the cost of poor quality, dependencies, timelines and risks. The project charter should be your number one tool in your list of tools that you will use to improve processes. When your project charter contains

Process Map:

Having a robust process map will help your project achieve greatness. By having a well-defined current state of process will help you to have a clear picture of the work flow and can help you to identify where rework and wastage occurs which in turn will help you to work on improvements. Six Sigma projects more often than not require a detailed and functional process maps to identify areas where problems arise. In fact, other Six Sigma tools such as FMEA, SIPOC, Value Stream and more rely on process maps because of its versatility and effectiveness.
Measure Phase Tools:
Cause and Effect Diagram:

Cause and Effect Diagram is one of the statistical tools used in the Six Sigma to identify, organize and display the probable causes of specific effects. This tool also has several other names such as Six Sigma y=f(x) equation and Ishikawa diagram named after its creator Kaoru Ishikawa where the tool quickly identifies variables which will be evaluated as root causes to an effect. This tool yields a graphical representation of inputs related to an output. This diagram on further inspection by subject matter experts will generate a valuable list of factors with regards to data collection, testing, analysis and observation. At the end of the day the cause and effect diagram holds all the answers to questions raised by specific effects.

Failure Modes and Effects Analysis (FMEA):

The FMEA in Six Sigma acts both as a tool and as an analysis technique which identifies, evaluates and prioritizes process that are found to be deficient. It requires a team to identify where the process can go wrong and breakdowns happen. FMEA is not a difficult tool to use, but when used properly, it clearly lays out potential breakdown junctures by which it helps the team to create proper solutions and proactively manage risks down the line. The application of FMEA tools is far and wide across industry verticals from business process, technology systems, military planning and product design.
Analyze Phase Tools:
Two-Sample T Test:

When you want to find out a statistical difference between the means of two samples, then the Two-Sample T Test is the best Six Sigma tool out there. This is extensively used while comparing two levels of a continuous variable and it was specifically designed when the variables are independent of one another. The Two-Sample T Test stands out when the variances are unequal and hence used a lot in Six Sigma than any other statistical analysis tools.

Mood's Median:

This is one of the most useful Six Sigma tools to compare medians of two or more populations. It is a non-parametric test which is another way to test a hypothesis while trying to compare data including various processes. The Mood's Median test determines whether the medians of two or more data point samples are similar or not. Because Six Sigma uses a lot of data to make informed decisions, Mood's Median is one such way to make sure your data is impeccable enough to arrive at those business critical decisions.
Improve Phase Tools:
Simple Linear Regression:

When there is a need of modeling of quantitative relationship between two variables in a Six Sigma project, then Simple linear regression tool is used. The analysis provides how a variable changes when there is a change in another variable which allows continuous analysis of changes in a Six Sigma project. With a simple equation this tool helps to Six Sigma professionals to make improvements to the processes.
Control Phase Tools:
Control Plan:

Control plan is one the management planning tools which identifies and monitors process performance metrics which is in line with customer requirements. This tool helps project team to monitor improvements on a long term basis. If you want your project to last the ride then this tool is of utmost importance to provide your project the stability it needs. But, many enterprises overlook this control plan tool for their Six Sigma project and by doing this you are not giving your project the probability of a successful finish.

IMR Control Chart:

There are many control chart tools to use, but the Individual and Moving Range control chart (IMR Chart) is one of the easiest, flexible and versatile control charts to use. Because it is widely used during the identification of process stability, the tool is applicable to continuous data inflow and to understand non-normality. Hence, IMR control chart is one of the most commonly applied control charts in Six Sigma projects.
There are many tools available to improve critical processes in a project. Individuals who have underdone Six Sigma Green Belt, Black Belt and Master Black Belt training will be able to demonstrate the knowledge of using these tools mentioned above. There are many tools which cater to the demands of various Six Sigma projects, but the above mentioned top 9 tools are some of the widely-used Six Sigma tools for its projects. Do let us know in the comments section if you think we have missed out on any important tool that needs to be in the list.