Leads and Lags in Project: How to Apply?
Over the decades, there have been substantial technological advancements because of which the market requests and business needs have expanded. Projects are initiated as per the request of customer's and to comply with regulatory requirements. Businesses utilize specific approaches for the development of handling the projects. They also take initiatives to build a good project schedule as it is crucial for streamlining and standardizing the way to execute the activities. This is where the Leads and Lags go about as the most essential and fundamental building blocks of scheduling.
Let's understand the definition and difference of Leads and Lags in project management and also how to apply the same.
What is Leads and Lags in Project?
Lag refers to the amount of time by which a successor activity is required to postpone regarding a predecessor activity. For instance, a team of technical writers perhaps will begin editing the draft document after 15 days of the articles from the date of writing — a lag show in project schedule network diagrams as well as a start-to-start relationship with a 15-day delay.
Lead refers to the aggregate time by which a successor activity can proceed concerning a predecessor activity.
For instance, a project that wants to develop new office space, the finishing could be planned to begin two weeks before the scheduled planned list completion. Thus, it represents a finish-to-start with a lead of 2-weeks. Lead is articulated frequently as a negative value for the lag in scheduling software.
How to Apply Leads and Lags in Project Management?
Activity Sequencing is one of the core tasks in project activity management. Among the numerous parameters that utilized in the project schedule, lead and lag are the essential ideas that are also in use.
Amidst every set of activities in the Project Network Diagram (PND) are the relationships that depict how and when a successor and paired activities can start. Precedence Diagram assists you in determining the project activity flow. Through the project activity flow, you can recognize the critical path and process the float of every movement. The schedule is made by utilizing the Precedence Diagram and understanding the connection between activities.
You can utilize lags and leads when combined with all the relationships. A lag is mostly holding up time, while a lead is hurrying up with time. At times project managers need to push things along with the project. This is the place lead time becomes possibly the most crucial factor. It enables you to draw activities closer to the start date of the project by deducting time from every scheduled activity begin time.
Regardless of the type of planning methodology or technique, such as Agile or Rolling Wave, the concept of Leads and Lags are applicable.
Lead vs. Lag
Lead and lag are both used in the development of the project schedule.
| Lead | Lag |
| --- | --- |
| Lead is an acceleration of the successor activity and can be used only on finish-to-start activity relationships. | Lag is a delay in the successor activity and can be found on all activity relationship types. |
| Lead is only found activities with finish-to-start relationships: A must finish before B can start. | Lag may be found in activities with all relationship types: finish-to-start, start-to-start, finish-to-finish, and start-to-finish. |
What are Leading and Lagging Indicators in Project Management?
The two kinds of measurements, leading and lagging indicators are utilized to assess the performance in a business or organization. The leading indicator is measured to be a predictive measurement while the output measurement is considered a lagging indicator. The distinction between the two is that the leading indicator can impact change and a lagging indicator can record what has happened.
Project managers frequently focus on estimating results and outputs. Why? Since they are accurate and easy to measure? There is a need to realize what number of sales has been made for the current month, we essentially check them. Also it's important for PMs to realize what number of disasters has happened in the factory and consult the accident log. These are lag indicators. They are an after-the-event estimation; fundamental for the progress in the chart yet pointless when endeavoring to impact what's to come.
To impact the future, an alternate kind of estimation is required, one that is predictive rather than a result. For instance, if the project team need to increase the sales, a predictive measure could be to make more deals calls or improve the promoting efforts. If the project team plans to diminish mishaps on the processing plant for the wellbeing of mandatory trainings for all workers or power them to wear hard-caps consistently. Estimating these activities furnishes us with a lot of lead indicators. They are in-process measures and are predictive.
Lead indicators in every case are harder to decide than lag indicators. They are predictive and in this way don't give an assurance of achievement. This not only makes it hard to choose which lead indicators to utilize, it likewise will cause arguments with regards to the validity of the measure by any means. To fuel the discussion further, lead indicators much of the time requires a speculation to execute an activity before an outcome being seen by a lag indicator.
Examples of Lead and Lag Measures in Project Management
The following table gives examples of Lead and Lag Measures utilized as a part of the making of a distinctive business scorecard.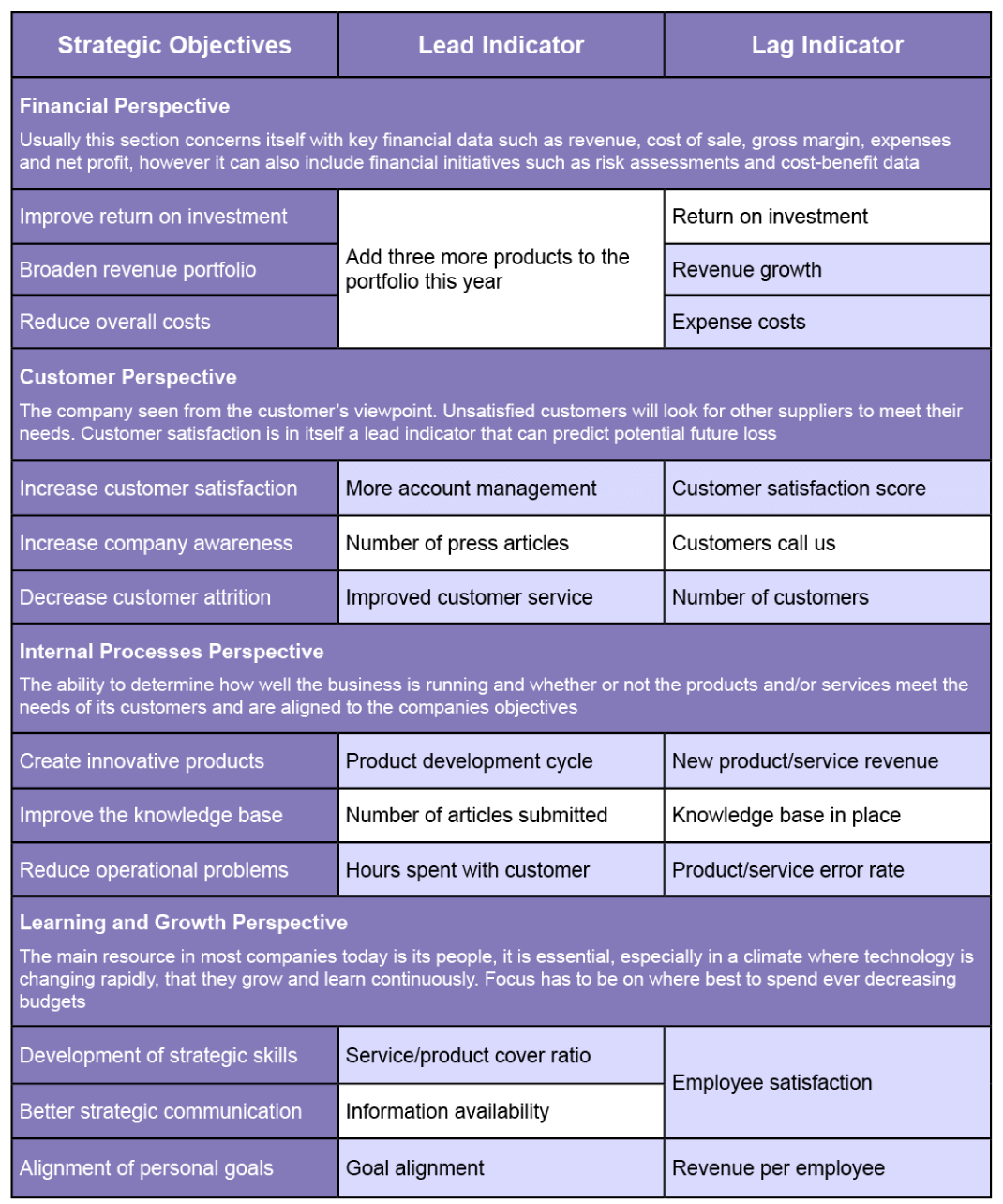 Image source: https://www.intrafocus.com/lead-and-lag-indicators/
For a project manager, the concept of lead and lag makes a lot of sense. These aspects of tasks are essential to calculate project timeline variations and eventually the project completion time.
Know more about project management best practices through Invensis Learning's Project Management certification training on PMP, CAPM, PRINCE2, Project Management Fundamentals, P3O, and MSP. We are a trusted training partner for Fortune 500 companies and Government institutions globally. For on-site group training, please e-mail us at corporate@invensislearning.com.