An Overview of ITIL Service Providers and Portfolios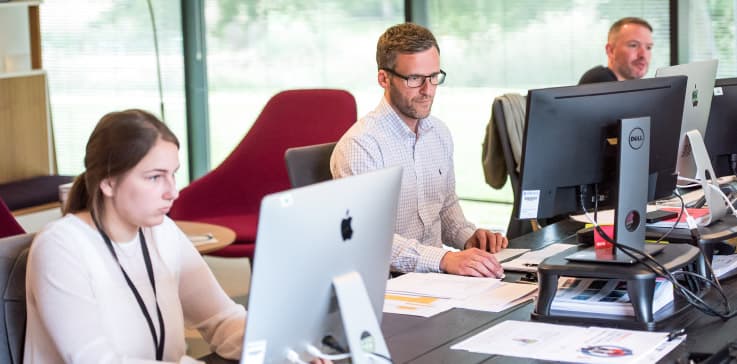 The service provider is an organization which provides IT support services to internal and external customers.
There are 3 types of service providers: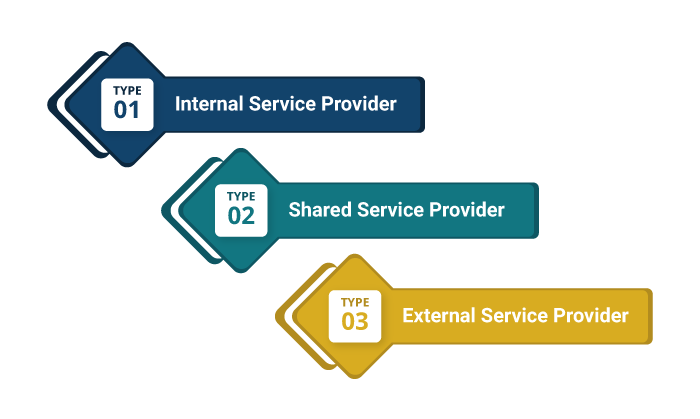 Internal service provider (Type I)

Internal service providers exist in an organization to deliver IT services to a particular unit only.
Since they are attached to a particular unit, they can dedicate their time and resources to providing the best possible support to the business unit.

They will also be more familiar with the requirements and problems of the business unit and can solve them faster.

The managers of the business unit have everything under their control.

The transactions are more transparent, and the costs are under the direct control of the management of the business unit.

If the company has multiple business units, this type of service providers will exist for each unit, thereby creating duplication of manpower and resources.

There is a higher risk of market failure associated with Type I service providers as they serve a single business unit and have nothing to fall back on, in case things don't go the right way in the business unit.
Shared service provider (Type II)
Shared service providers deliver IT services to multiple units in the same organization.
They eliminate duplication of personnel and resources as they provide IT services to several business units across the organization.

Each business unit ends up spending less on maintaining the IT service provider as the costs are spread across several business units.

Since shared service providers have a heavy workload and have to keep costs to a minimum, their equipment can get outdated over time and replacements would be unlikely.

These service providers have to be flexible to cater to the varied needs of different business units. This prevents them specializing in a service.
External service provider (Type III)
External service providers deliver IT service to customers outside the organization.
In large organizations with multiple departments, it is usual to have a mixture of internal service providers and external service providers.
One of the main advantages of using an external service provider is that the company need not worry about capital investment such as purchase and maintenance of equipment used by the service providers.

There is a fixed cost to be paid to the service provider, and the company does not have to worry about paying individual salaries or overtime as it is the duty of the service provider itself to manage that.

Businesses find it more flexible to use external service providers.

For a small business unit, it is economically not viable to invest in expensive IT equipment which would serve only limited roles. But outsourcing IT services is more cost effective since it allows them to avail the benefits of the best equipment without paying for its ownership.
Service Portfolio
In ITIL, the service portfolio is the core information repository for all the services in an organization. The service portfolio describes the services which are presently being considered and developed by the service provider. This is in addition to its present contractual commitments; ongoing service improvement plans (SIPs) and the services which the company no longer provides.
Service portfolio is defined as the complete set of services that are managed by a service provider. The service portfolio is used to manage the entire lifecycle of all the services. It includes the three categories:
Service pipeline (Proposed or under development)

Service catalogue (live or ready for deployment)

Retired services
A service portfolio can also include third-party services which are used by the service provider as an integral component of the services it offers to its customers. A service portfolio portrays the commitments of a service provider and their investments across all its customers and market spaces that the service provider operates or intends to operate in.
Internal service is a type of service which is delivered to the departments or business unit in the same organization. External service is a type of service which is delivered to external customers who are outside the service provider's organization.
There is a significant amount of difference between internal and external service as the former supports an internal activity and the latter achieve business outcomes. Internal serves, however, have to be linked to external services for their contribution to be measured and understood.
Classification of Service Portfolio
By classifying services into 'supporting,' 'internal' and 'external' categories, it is possible for a service provider to differentiate between the services which actually support and internal activity and the services which actually achieve business outcomes for customers.
They are classified as the following:
Support services
They are the services which are not used by businesses or external customers directly.

These services enable the IT processes and services used by the IT service provider to provide other services but are not directly visible to the customer.

The performance of supporting service is managed by OLAs.

Supporting services are defined in a way to permit the interdependencies between IT components to be identified.

They show how the components are used to deliver internal and external customer-facing services.

Support services can exist so that they can be combined with other supporting services.
Internal customer-facing services
They are the services which are directly supporting more than one business process that is being managed by an internal customer.

These services enable the IT processes and services used by the IT service provider to provide other services but are not directly visible to the customer.Internal customer-facing services are managed by SLAs and are underpinned by supporting services.

An internal customer-facing service is identified and defined by the business.

If a service cannot be perceived by the businesses it is engaged with; then it would be considered as a supporting service and not a customer-facing one.

Internal customer-facing services depend on a set of integrated supporting services which are not visible to the customer.

Management of internal customer-facing services is done as per service level agreements.
External customer-facing services
The services which are supplied by the IT department to the external customers are called external customer-facing services.

These services are provided in a way so as to enable the organization to meet strategic objectives, which is why they are considered as business services.

External customer-facing services are managed through a contract.

As per the organization's strategy, the service is provided free or charged for.