The Relationship Between Portfolios, Programs, and Projects -Explained!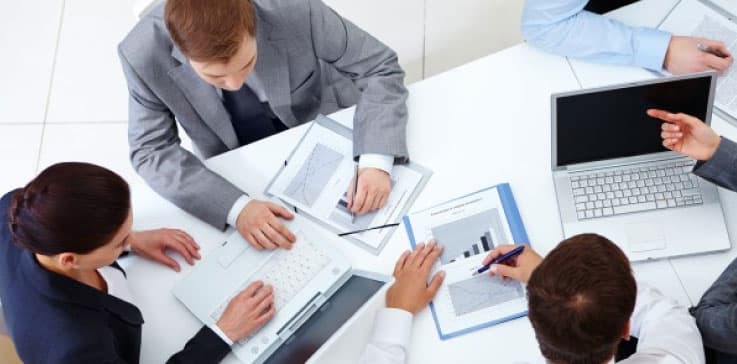 A portfolio, program, and project- however similar they may sound, their meaning and usage is quite different. Let's take a glance at them one-by-one.
Project
According to PMBOK® Guide, a project is a temporary endeavor undertaken to create a unique product, service, or result. They have a specific start and end date. A project is a small unit of large program or portfolio and is managed according to a common objective. It has a lifecycle, consisting of a definite start and end and is considered a closed dynamic system. It is bounded by time, resources, and required outcomes. The project is managed and monitored by the project manager and is terminated when the target is achieved, cannot be achieved, and when there is no need of achieving the target. The target and impact of projects can be tangible or nontangible.
Program
Programs are grouped within a portfolio and are comprised of subprograms, projects, or other work that are managed in a coordinated fashion in support of the portfolio. Programs are so large that they have to be broken down into smaller units (projects or subprogram) to distribute the responsibilities and ease the work thereof. The process of breaking down the overall work and distributing it to individual project team means multiple brains in a single program. When several teams and managers present ideas for their projects, it works well for the different projects but not for the initiative as a whole.

For example, an anonymous automobile company manufactures different types of cars. The design and manufacturing of one particular type of car would be called a program and of the parts like bonnet, panel, or engine would be a project. The integration of all the parts (projects) would make a complete automobile (program).

The objective of a program is to offer central management and control over a set of underlying projects that are set to deliver a common solution. It allows an organization to achieve the benefits individual projects cannot achieve alone.

To understand the concept better, take help of diagram given below. In this, a program is divided into two projects and a subprogram outside of the scope of both the projects: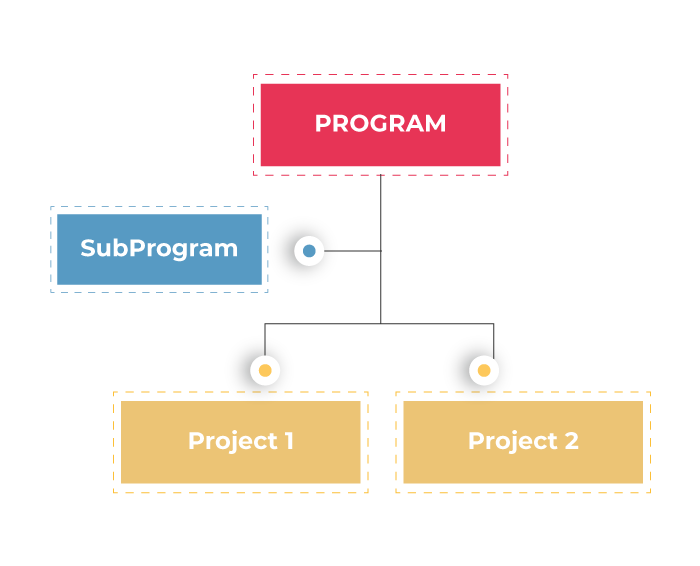 Portfolio
According to PMBOK® Guide, a portfolio refers to a collection of projects, programs, sub-portfolios, and operations managed as a group to achieve strategic objectives. A portfolio contains both projects and programs and is managed by a portfolio manager. The portfolio is directly drawn from the strategic business plan of the organization. Big decisions like investment are made at the portfolio level.

For example, take the case of an automobile company. The unique designs of different cars will represent programs, and the design of cars, in general, will represent portfolio. To understand the concept better, take help of diagram given below. In this, a portfolio is divided into one project and two programs and a sub-portfolio outside of the scope of both the projects: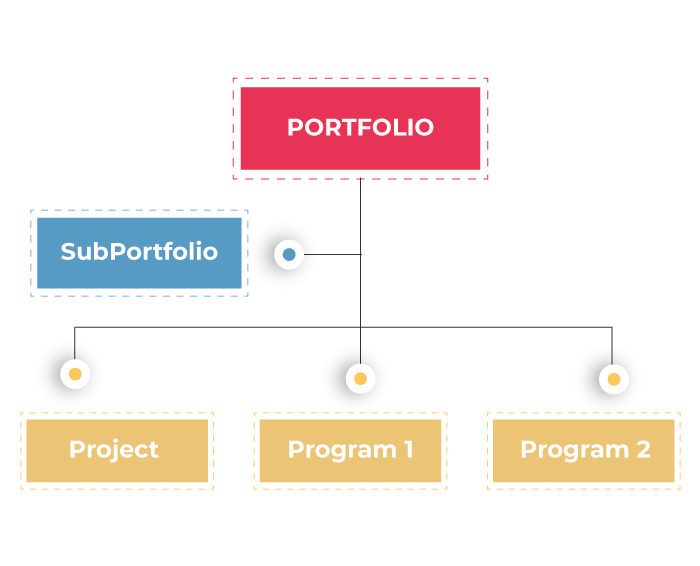 Difference between Portfolios, Programs, and Projects
Given below are some difference between a portfolio, program, and project for a better understanding of the three terms:
| Factors | Projects | Programs | Portfolios |
| --- | --- | --- | --- |
| Monitoring and Control | Project management is in charge of taking care of the project and its deliverables. | Using program governance, program manager monitors and controls the program. | Portfolio manager measures the aggregated performance. |
| Scope | It has defined scope which alters and is improved upon as the project moves forward. | It has a wider scope and is focused on the benefits. | The scope is driven by the strategic business objective, which the portfolio was meant to address. |
| Success criteria | Success is measured by the product quality, time of delivery, budget compliance, and degree of customer satisfaction. | The level to which it satisfies the needs and benefits for which it was started decides the level of success of programs. | Success is measured regarding the collective performance of its components, and on the benefits, it inflicts on the stakeholders and investors. |
| Schedule | Project schedule is the time taken to create the results expected out of the project | Program schedule is essentially the aggregation of the schedule of the program components | The portfolio does not have a schedule. Individual program or projects associated with it will have their schedules. |
Conclusion
Just bear some key points in mind:
Projects are temporary endeavors to create one or more deliverables.

Programs are larger initiatives that are broken up into a set of smaller projects and subprograms and then coordinated centrally. The projects in a program are related to each other.

Portfolios are collections of work (projects, programs, or sub-portfolios) and are a way to plan and manage the projects from an organization perspective. The projects may or may not be related.
In the figure given below, you can see the relationship between portfolio, program, and project.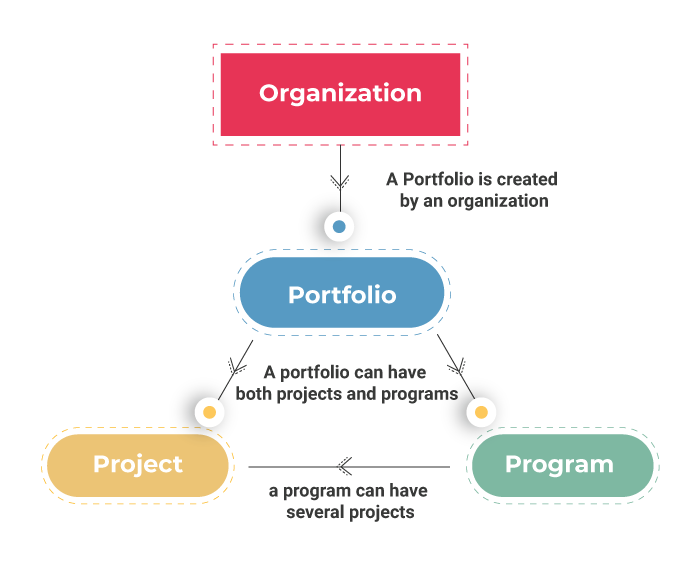 Know more about project management best practices through Invensis Learning's Project Management certification training on PMP, CAPM, PRINCE2, Project Management Fundamentals, P3O, and MSP. We are a trusted training partner for Fortune 500 companies and Government institutions globally. For on-site group training, please e-mail us at corporate@invensislearning.com.